A GREATER GLORY OF OIL AND MEMORY GIANO DELL'UMBRIA
"Cooks Memories"
byGiulio Scatolini
This small and deliberately incomplete recipe rather than by provenance will hand written is based on oral stories derived from my family and other old and / or awards to scholars who have preserved the historical memory of local food, knowing that this is the heritage of the Fathers, not only with the possession of the land, but also through culture and memory "local" language (dialect), festivals and food as this, in the past, rigidly divided into "food business" and "food of party. "
The oil, however, both on weekdays and holidays never lacked in Giano dell'Umbria 's dishes, reflecting an area where the product was so present and so important that it should be used for any kind of preparation or culinary seasoning.
Even today, therefore, in which olive oil is stripped, almost definitive, its characters symbolic, religious and mystic and is "just" a food, it, however, kept at Giano dell'Umbria, something magical and sacral no coincidence that the cultivars that typifies the aptly named … "San Felice".
Omelette with "i dabbi (vitabbie)"
The vitabbie, in dialect "dabbi" are seeds of a climbing plant that is located in the hedges with thorns and other shrubs. The parts fit for the omelette are the leading shoots of the plant collected fresh and tender in spring.
A curiosity: the "dabbi", in the absence of cigarettes, or money to purchase them, were, by Giano's people, also "smoked" via "map" made, if necessary, a sheet of newspaper or old notebook.
Collect and wash in the spring season "dabbi."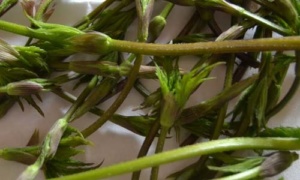 Chop with your hands and fry in a pan with Giano's oil old more than one year.
At the same time, beat the eggs, adding in each case, a pinch of salt.
Add the "dabbi" fried and mix well together.
Pour the entire mixture into a greased frying pan and cook the omelette with a thickness of about 2 cm.
Eat it hot.
Cooked water

The water boiled is a very simple soup that is rarely prepared today.
Being a poor man's dish instead was once widespread in our territories.
It can be eaten hot or cold.
Ingredients: wild chicory country, pecorino cheese, hard bread or toasted, salt, olive oil.
Cook the chicory in salt water, along with some herb, in a pile of crock.
In a deep dish place the stale or toasted bread cut into thin slices.
Pour over the chicory with a generous portion of the same cooking water.
Dress with extra virgin Giano's oil and "pecorino" cheese.
Modern variants: chicory may be replaced by chard, pecorino from parmesan; almost obligatory in revisiting the 'add the egg.
Cabbage soup

It 's a dish completely forgotten.
It was however, very worn once, especially during the winter.
Ingredients: cauliflower leaves, stale bread or toast, garlic, olive oil, salt.
Cook the leaves of cauliflower in salted water and drain, past the same leaves in a pan with oil and garlic.
Season the toasted bread with a little Giano's oil.
Dip the slices of bread, so seasoned, one by one in the water, baking of the cauliflower.
Make sure that the slices while immersed not break. Then arrange on individual plates, cover with the leaves of cauliflower fried and seasoned with olive oil and fresh yet of Giano dell'Umbria.
This soup should be eaten hot of course.
Pancotto
The flat bread soup was "recommended" to the lactating women, children who began weaning, the elderly who no longer had a suitable notched a proper chewing.
Today it is rather rarely prepared for culinary curiosity if not historical.
Ingredients: bread, cheese, garlic, olive oil, salt.
Cut the bread into slices or pieces, put it in a pile of crock with salt water and two cloves of garlic. Simmer over low heat for half an hour.
Serve hot, after removing the garlic, seasoned with plenty of extra virgin Giano's oil and "pecorino" cheese.
There is a rich variation that consists of adding a beaten egg just before serving.
The cheese can be substituted in the modern variant of the "Parmiggiano Reggiano".
Frascarelli
This dish was very well known until the fifties, as was suggested in a systematic way, in all seasons, women in their breastfeeding their babies.
Today, the dish has been almost completely forgotten and only rarely presented in a way. Revisited.
Ingredients: egg, water, flour, salt, oil, pecorino cheese.
Arrange on "spianatora" (rectangular wooden board to make pasta) a thin layer of flour.
Beat the egg ,salt and diluting it with water. Pour this liquid mixed with your hands or a fork, in small drops on the flour. Mix the egg and flour with your fingertips, moving her hands in a circular motion until it is smooth and rounded grains of pasta.
Eliminate any excess flour "frascarelli" passing through a sieve before cooking them in salted water where it should be removed at the first boil.
Serve topped with extra virgin olive oil with fresh Janus and cheese.
Variants. In revisiting the broth may be meat or "beaten" (lard with adding some herb) lightly fried and diluted with hot water. Sometimes "frascarelli" are also flavored with a spoonful of tomato sauce.
"Strangozzi" lean

And This is one of the few recipes came almost unchanged since its invention to the present day.
It 'a dish that is often prepared yet both by Spoleto and  Giano's  families of the area, both in the restaurants of the area.
Ingredients: flour, water, salt, garlic, oil, pepper, tomato, parsley.
Knead on a work surface with flour, water and salt, mix well together and worked long until the dough becomes soft and smooth, such that they can be stretched into a sheet rather thick that be left to dry for about half an hour.
Sprinkle the dough with a thin layer of flour and roll it up and cut it into strips not too thin.
The recipe said, states: "the dough must be prepared to" Culu Mossu "and strangozzo must be" ERTU de pasta "and" Finu de curtellu … "
In a pot, according to tradition earthenware preparing the sauce "skinny" (poor):
is fried in oil Janus, a year old, the garlic until it turns golden, then added the fresh tomatoes in pieces or past, salt and pepper. Leave to simmer for around half an hour and at the end add the chopped parsley.
"Strangozzi"  are cooked in salted water and dress in warm, letting stand a few minutes with the sauce, which should be well absorbed, before serving.
There are also more modern variants in which "strangozzi" are made with eggs and the sauce is enriched with mushrooms, asparagus, truffles.
Bracalaccio
And 'the most simple and poor family of pancake being constituted by an egg, flour, salt, water.
Prepare a dough rather thin (slouching? Perhaps the origin of the name), made from flour, salt, and water as an egg beaten.
In a large pan of iron is brought to a boil a tablespoon of oil of Giano, one year old, pouring a ladle of dough.
The "bracalaccio" well browned on both sides, served still warm with or without sugar.

Cresciola
It 'a pancake made with bread dough that was traditionally eaten for breakfast.
Ingredients: flour, water, yeast, oil, salt.
Add the flour on a pastry board the yeast of bread, dissolved in a cup of warm water, salt and a little 'new Giano's oil.
Knead the dough and mix well and let it rise for about an hour.
flatten  individual pizzas than half a centimeter in thickness and circumference slightly less than that of the pan in which they are fried, using past year oil of Giano dell'Umbria.
At the end of cooking thanks to this the pancake yeast grow (hence "cresciola") in diameter up to the edges of the pan and is firm and crisp.
"Cresciola" also be served hot seasoned with salt, but, if desired, also with sugar.
To close!
Could not miss, even if it is usually in overture, the recipe for "bruschetta".
However, to ease the aura of an expert, I insert a call ironic that of course has nothing in history and memory, but as a tribute to an important artist from Foligno, Umberto Raponi, which over the years has produced some interesting graphic works and poetry of Giano and his San Felice great oil.
Bruschetta mystical to San Felice

It is a recipe that takes, in fact, inspired by the "mystical Bruschetta" of the Master Umberto Raponi (see bruschettario "La bruschetta del fachiro laureato"; 1996 Perugia), but there are some minor variations on the "cultivar dell'olio " to use timber useful to prepare the coals.
Cut a slice of two centimeters of bread slightly stale.
Place it on a grill resting on a fire made from oak and juniper of "Monti Martani".
When the slice will have taken a nice golden color, engrave on it, with a knife, the sign of the Cross.
Season with salt and then just with new oil vintage, made mostly of "cultivar  San Felice", taking care to pay extra virgin olive oil in a more generous and abundant along the signs of the cross traced.
Tighten lightly toasted bread with your hands, to better facilitate spraying, inside the slice, extra virgin olive oil of Giano dell'Umbria.
Eat it quickly, before it gets cold, standing looking out a window, with an eye to the Abbey of San Felice, in the "Ave o Maria" time.