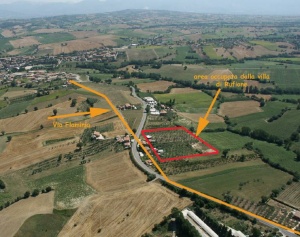 In the territory of Giano dell' Umbria were performed by Kronos, an archaeological society of Spoleto, between 1997 and 2001 a series of surveys that led to the identification of an unexpected amount of ancient sites, from the phase prehistoric times to the Middle Ages.
The careful study of the territory have amassed a wealth of documentation on numerous residential areas of small size of the Roman age, in close connection with the road network and, probably, with the villa.
The importance and the consistency of the findings in the area of the archaeological site in the village led the municipality to make the employment of the request to start an archaeological investigation, which began in March 2003 and continued until today.
The area, called loc. Toccioli, had returned already exhibits in 1925, when, during the work of planting an olive grove, were found a dolium a and travertine marble memorial stone, now restored and preserved at the site of the Municipality of Giano dell'Umbria. In the memorial stone reads the inscription repeated on both sides:
a.                   a) b)
LARIBVS                                                         PRO  REDII
PRO  REDITV  C/////                                                ///// AR /////
CRESCENS  DISP                                               CRESCENS
DI /////
It is a dedication to the Lares layed from an imperial dispensator on the occasion of the return of an emperor, whose name was abraded in ancient times.
Romanelli Becatti and Pietrangeli agree that the location was an imperial property.
During the third campaign of excavations it was found a second inscription always travertine.
C  IVLIO  RVFIONI
NOBILIS VIR FECIT
Svetonio in "De Vita Caesarum" (tranquilli vita divi iulii) Chapter 76 reads as follows: "… Cesare ask care and
3 legions command of his army, which left at Alexandria, to Rufione: son of his freedman and his favorite … ".
The archaeological survey conducted to date has highlighted as the villa of the present exceptional features:
to. strategic location along the ancient Via Flaminia